The Social and Environmental Requirements of a Climate Emergency Economy
Our economy is not currently zero carbon, stable or sustainable, even in economic terms. What interventions are required to deliver the rapid transition required? What must these interventions achieve and how should these requirements be defined?
Download Report in Czech via GEF website
The Social and Environmental Requirements of a Climate Emergency Economy, argues that we need to dramatically reduce demand for resources, particularly in the transport, steel and construction sectors, and invest in jobs and livelihoods rather than infrastructure and material goods.
It also asserts that the transition to low-carbon must be built on consent and be equitable.
The report contains Recommendations, using the policy toolkit introduced in Green House's August 2020 report, Trade and Investment Requirements for Zero Carbon.

Peter Sims, one of the report's authors, said:
"The economy is meant to serve us but instead it's geared towards constant economic and material growth – as these are driving biodiversity loss and climate change. We need to reduce our demand for both raw materials and energy, and refocus the economy to serve people and planet. Until we address problems with our economy and reduce resource consumption, we won't be able to address climate change."
This work forms part of a wider project led by the Green European Foundation exploring what a 'climate emergency economy' would look like through a rethinking of trade, industry and infrastructure investment. The project involves Greenhouse Think Tank in the UK alongside Wetenschappelijk Bureau GroenLinks in the Netherlands, and Green Foundation Ireland, and the Bulgarian Foundation of Environment and Agriculture.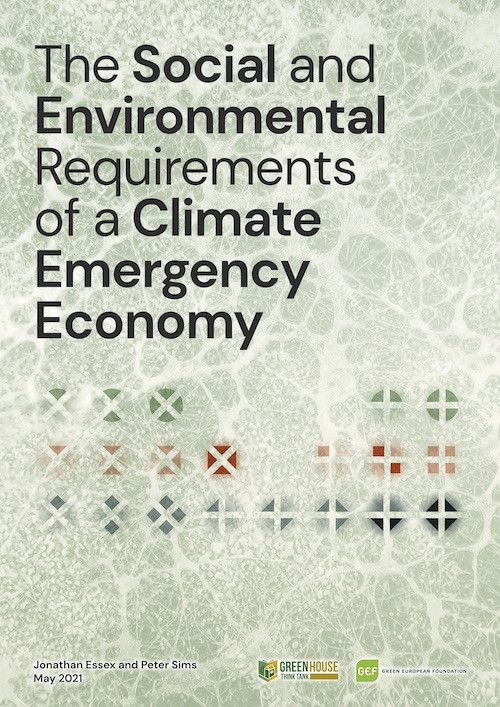 ---
Project Overview Video
---

Join the newsletter to receive monthly summaries of Green House Think Tank's latest work.